[ad_1]

With the launch today of its second-generation platform, London-based Legatics is expanding the capabilities it offers customers from its core of legal transaction management into broader legal project management.
With some 40 templates, customizable templates, and a new interface designed to be more intuitive, Legatics now supports legal project workflows and deal closures across a range of law firm departments, including banking and finance, litigation, capital markets, real estate, corporate and M&A, regulatory, employment and restructuring.
Features new to this second-generation platform include:
Legal text importer, which allows a user to transform any legal text – such warranties from an SPA, conditions precedent from a facility agreement, or completion obligations from a restructuring – into structured checklists, simply by copying the text and pasting it into Legatics. The importer can also import a table from Word and transform it into a collaborative process that can be tracked within the platform.
Signing view, which replaces the need to keep your Word signing checklist synced with another list. Legatics' signing view keeps your data in sync. It also lets you set up your parties and signatories in advance of signing, then push that data to DocuSign, and watch as the required signatures come through.
More than 40 templates to facilitate use of the platform by lawyers to manage their projects across multiple practice areas. Users can also create their own templates from scratch or from another deal on which they have worked.
Legatics founder and CEO Anthony Seale, a former banking and finance lawyer, told me that he started the company to make legal transactions more efficient. Having done that, he said, he now wanted to expand the platform to support many different practice areas.
"The software is very highly configured for all different types of lawyers, whether they sit in real estate, whether they sit in corporate tax restructuring or other practice areas," Seale said. "And I think what we can bring to them is legal project management that's really specific to those practice areas and that all uses a fundamentally flexible base."
"We recognized that lawyers were doing so much more than just closing their transactions — that they were project managing all sorts of different aspects of their transactions that we really wanted to cater to as well."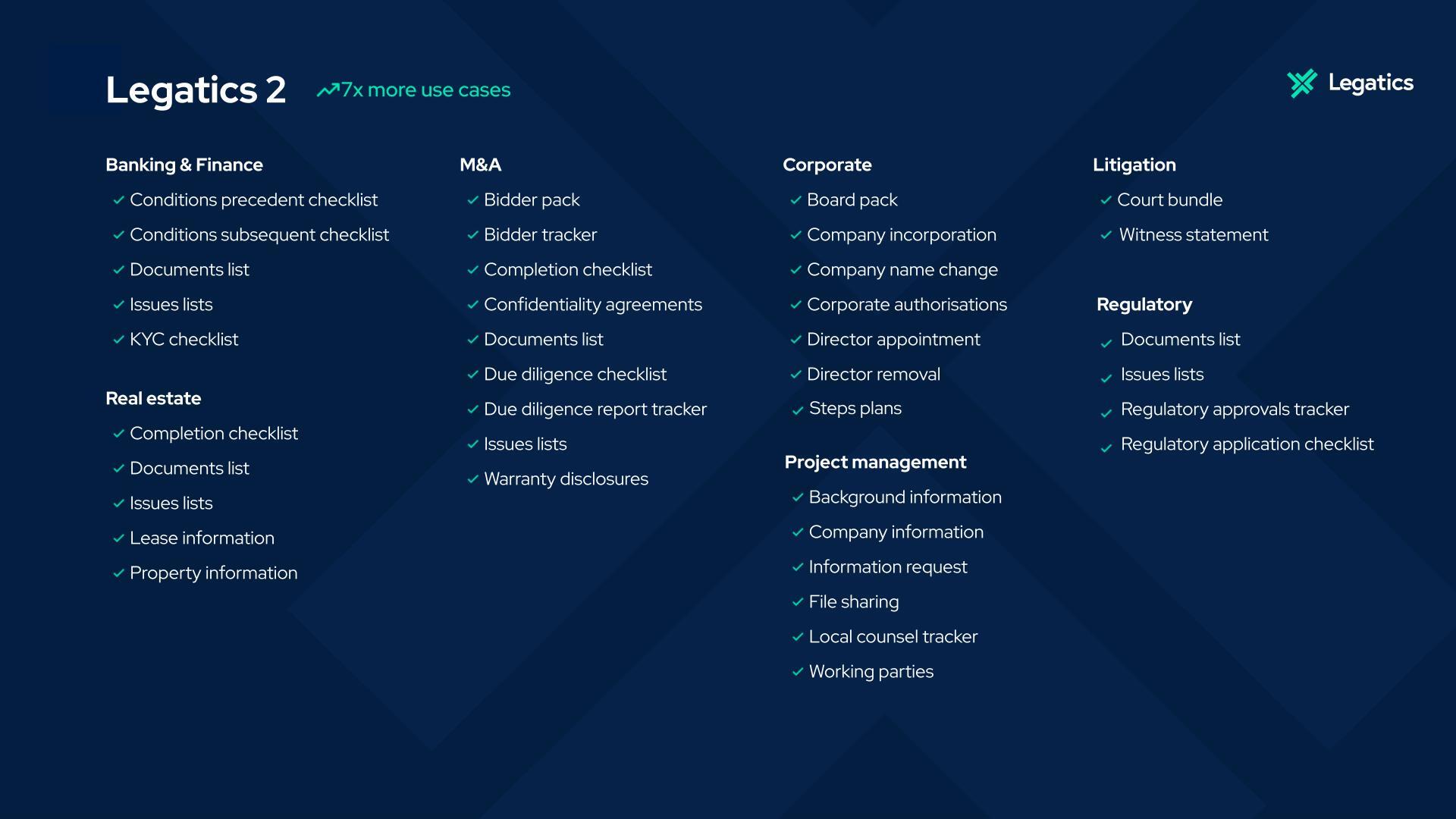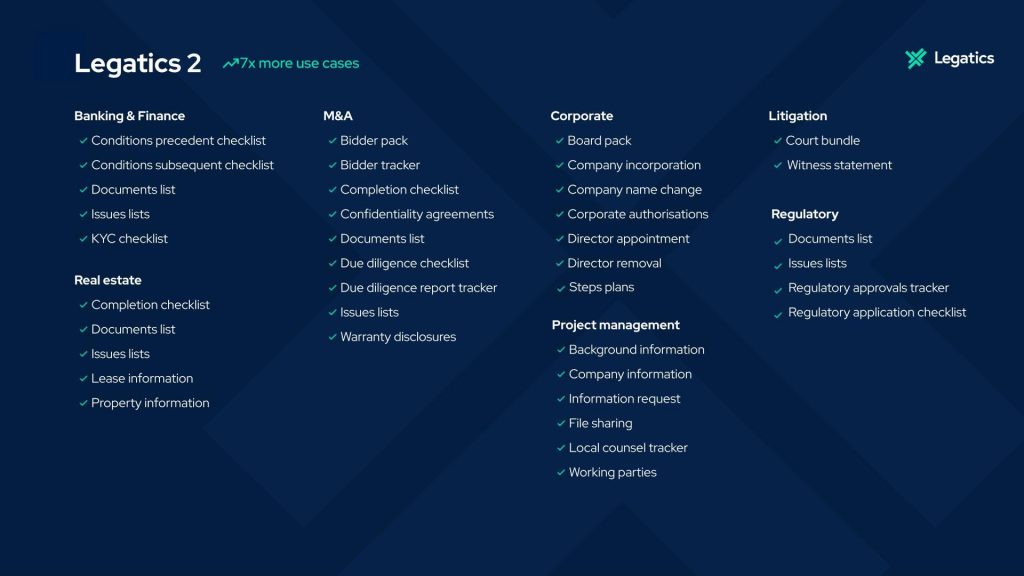 Seale said the software is designed to help lawyers manage the detailed and complex series of steps that must be followed in a major matter, such as a restructuring. Where lawyers today often create these step plans in Microsoft Word, Legatics' templates provide a blueprint for setting up the initial steps and then following the plan as it develops.
Although London-based, the company has many multinational law firms as customers and therefore users in more than 60 countries. Seale said the company is expanding its marketing in the U.S. and will be exhibiting at the Legalweek show in New York March 20-23.
The company's website lists as among its customers the law firms Allen & Overy, Dentons, Herbert Smith Freehills, and King & Wood Mallesons.
Law firm clients have been instrumental in driving firms to adopt Legatics, Seale said. Because the platform is client-facing, clients who go through deals using the platform often encourage their own firms to deploy it.
"The fastest we've ever had a law firm procure us is where a client has said to its firm, 'We've done a deal with X firm and we had a brilliant digital view of the transaction."
Dashboard View of Matters
Seale gave me a quick demonstration of the platform. When you log in, you are presented with a list of all that matters that you are working on. These could be matters you're hosting yourself or that somebody else on the platform has invited you to.
When you go into a matter, you see a matter dashboard that represents a number of facets of the matter. These can vary but may include lists of core documents, a bidder tracker if there are multiple bidders, warranty disclosure exercises. and the like. The dashboard shows the progress of each facet and the status of actions done or needing to be done and by whom.
Seale said it is intentionally designed to resemble a table in Microsoft Word. "We want the leap for lawyers into technology to be as easy as possible, so we make the project management look like the sort of project management that you might see in Word."
Seale said the platform incorporates a number of powerful workflow features, including the ability to mark documents to be signed, track them through signing (it integrates with DocuSign), and automatically generate a closing set.
"Say I'm a banking and finance lawyer and I want to run a conditions precedent process online, or I'm an M&A lawyer and I want to run a due diligence checklist or a warranty disclosure exercise or an issues list online," he explained. "We find that lawyers are varying in their ability to imagine new legal processes run online, so if we show them how these things can be done using new templates, then they can get started really quickly and we can produce something that looks like what they're used to working with."
"Managing legal projects is hard work," Seale said. "It's even harder if you have work spread across lots of generic tools. It's easy to lose track of all the moving pieces – and it's tough to stay up to date. That's when things fall through the cracks.
"Legatics offers law firms and in-house legal departments a single platform to organize those projects and meet their deadlines. Helping teams to plan, organize, and manage their matter or project, irrespective of whether it is a deal or transaction, a merger or acquisition, or a liquidation, from start to finish."
[ad_2]

Source link