[ad_1]

Wait, are there now two legal AI companies named Harvey? And how is it they both involve a Winston? And why did one disappear overnight? It's a legal tech mystery.
Last November, a GPT-powered legal AI startup called Harvey came out of stealth mode, revealing it had raised $5 million in funding led by the startup fund of OpenAI, the developer of GPT. Since then, Harvey has seen some major wins, including being deployed firmwide by Allen & Overy, one of the world's largest law firms, and then being adopted by PricewaterhouseCoopers, one of the world's largest accounting firms, for its 4,000 legal professionals.
Needless to say, all of this made for exciting times for Harvey's two founders, Winston Weinberg, formerly an associate at law firm O'Melveny & Myers, and Gabriel Pereyra, formerly a research scientist at DeepMind and a machine learning engineer at Meta AI. 
Given this, I was surprised yesterday to learn of another Harvey legal product, also describing itself as an AI lawyer. Even stranger, the page title and the metadata description described the page not as AI lawyer Harvey, but as AI lawyer Winston — the very name of one of the other Harvey's founders.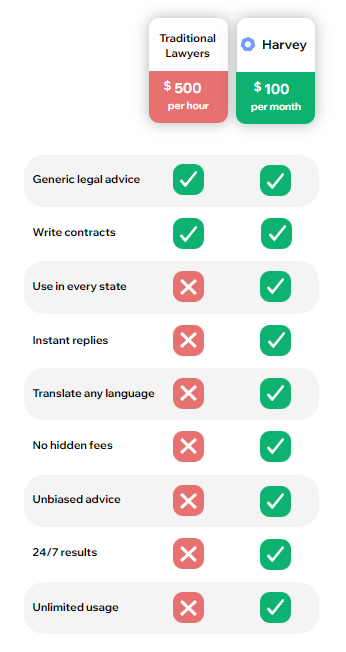 This second Harvey touted that it is "your personal AI lawyer" and that Harvey has "read every law book there is, scored in the top 10% of lawyers on the Bar, and knows the answer to any legal question you have."
It also compared itself to the cost of a traditional lawyer, indicating it could be used in every state and would deliver 24/7 results.
To further deepen the mystery, last night I emailed the second Harvey's CEO to ask if I could speak to him about the site. He has not responded as of yet, however, as of this morning, the site has now disappeared, and the URL is pointing to the website-building platform Wix, with the message, "Looks like this domain isn't connected to a website yet."
Just to confirm that this was not a spin-off of the first Harvey, I emailed the founders. They confirmed that they have nothing to do with this second Harvey.
I learned of this second Harvey after its CEO sent an email addressed to owners of small businesses in the Portland, Ore., area. The email identified the sender as Lance Bricca, CEO of Harvey, and said he also runs a Portland-based small business. The email went on to say:
"My brother and I built an AI lawyer to help our own business, but after seeing how much money it saved us writing contracts, reviewing legal docs, and answering any law question we'd normally have to pay a lawyer to answer, we decided we wanted to share it with other small businesses in Portland.

"Our website is meet-harvey.com. Let me know what you think! (Also, there's a 7 day trial so there's no risk to you to try it out)."
On LinkedIn, Lance Ricca is listed as the Austin, Tex., based CEO of a company called Orion. (The email I described above came from an email address showing the domain "send-orioninc.com.") A December 2022 news release identifies Ricca and his brother as the founders of a company called Atlas, described as a men's mental health startup, but whose URL leads to a newsletter about increasing happiness using neuroscience.
He also received a FINRA Series 7 securities license in 2022 and was affiliated with a micro-investing company called MicroVentures.
The now-disappeared website explained that Harvey worked via email.
"Email Harvey any legal question or contract you want written; he'll be able to do it," it said. "Harvey emails you back in minutes with an answer backed by the whole internet. It's that simple."
The site was offering a seven-day free trial, after which the cost would be $100 per month. As of now, the site's payment page on Stripe is still up.
The site also said that the product had been used by "top decision makers" at the companies Superhuman, Robinhood, Uber, Grin and Airbnb. All of these companies are also listed in the MicroVentures website as part of the company's portfolio.
If anyone knows anything more about this company or its here-yesterday, gone-today website, please let me know.
[ad_2]

Source link