[ad_1]

For many writers, programmers, and gamers, there is no substitute for a mechanical keyboard. With mechanical switches under each key, mechanical keyboards are more tactile and durable than other laptop and desktop keyboards, which can translate to a more enjoyable typing experience. Until now, however, there has not been a mechanical keyboard designed expressly for lawyers and legal professionals.
Well, say hello to LegalType, the customizable mechanical keyboard designed for lawyers. It comes with a set of keys for common legal symbols as well as for international and crypto currency symbols, and hotkey shortcuts for Microsoft Word and Outlook functions commonly used by legal professionals.
Even if you prefer to stick with your laptop keyboard, LegalType has you covered. It offers a software-only version of its key set that turns any keyboard into a legal keyboard.
Of course, this is not the first keyboard for lawyers. Back in 2017, I published a blog post announcing the launch of the LegalBoard, a keyboard designed for lawyers by a lawyer (Perkins Coie partner Brian H. Potts). 
Reader reaction to that 2017 post was so enormous that, as I wrote a few days later, "Never in my 14 years of blogging and more than two decades of covering legal technology have I seen the legal world react to a new product as it did this week to the LegalBoard."
Related: Hands On With the LegalBoard — The Keyboard Just for Lawyers.
But while the LegalBoard was a standard membrane keyboard, the new LegalType is a mechanical keyboard, with the tactile satisfaction that offers, not to mention programmable firmware that makes it easy to customize.
The LegalType keyboard was developed by Daniela Semeco, who is CEO of Polyglotte, the company that sells the keyboards. The Venezuelan-born Semeco was a medical and legal interpreter when she saw the need for a high-functioning legal keyboard that could also be ergonomic, adaptable and attractive.
Testing It Out
Semeco sent me a review unit of the keyboard to try for myself. The USB keyboard works easily out of the box, but to use the legal-specific functions, you first need to open a small executable file. The file ships with the keyboard on a USB flash drive or can be downloaded from Polyglotte. With the software installed, all of the legal functions become active.
The LegalType keyboard includes a variety of keys for symbols commonly used by legal professionals, as well as international currency and crypto symbols. The chart below shows the available symbols.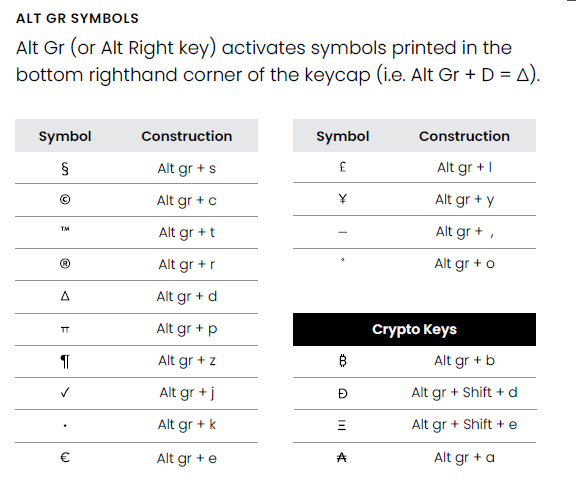 It also comes with hotkeys that enable functions in Word and Outlook that legal professionals commonly use. This chart shows those hotkeys.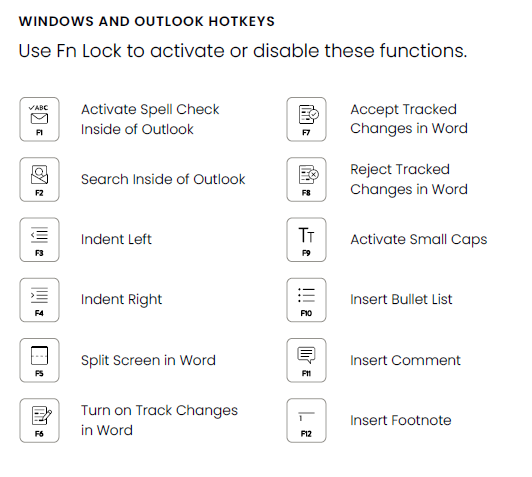 The LegalType keyboard differs from the LegalBoard in that it offers far fewer keyboard shortcuts. The LegalBoard, in addition to commonly used symbols, includes keys for inputting common words and abbreviations, such as "plaintiff," "F.3d," and "e.g." The LegalType keyboard has only the symbols and hotkeys shown above.
However, because the LegalType keyboard is programmable, it is easy to create macros for any of these or any other terms and phrases. Flip a couple DIP switches on the keyboard to put it into programming mode, then easily create a macro, such as "Fn+p" to enter the word plaintiff.
As I mentioned above, the software works independently of the keyboard, so when it is running, its functions are enabled on any keyboard. For example, if I want to insert the section symbol (§) using the mechanical keyboard, I press the AltGr key plus the S key. On my laptop keyboard, there is no AltGr key, but I can accomplish the same thing by pressing Alt plus the right arrow and then S.
It is even possible to combine LegalType's keyboard software with the LegalBoard keyboard, whose functions are built into its firmware. That gives all the functions of both LegalType and LegalBoard.
The advantage to using the software with the mechanical keyboard is that the LegalType keyboard includes the symbols on the keys, so you do not have to remember which key or combination to press.
How to Buy
If you are interested in buying the LegalType mechanical keyboard, it costs $155 from the LegalType website. That includes the software driver and a keycap puller if you want to change keycaps.
You also have two other buying options:
Buy just the software driver for $1.99.
If you already have a mechanical keyboard, you can buy the LegalType keycap set for $46.75.
The company also offers the set of four crypto keys separately for $9.99.
Bottom Line
If you have already mastered macros, or already have software such as ActiveWords, then there may be little incentive for you to use LegalType (or the earlier LegalBoard). But if you are constantly having to remind yourself how to insert that paragraph symbol, then having it and other common symbols directly on your keyboard is a time saver.
Combine that convenience with the tactile pleasure and durability of a mechanical keyboard, and you just may find yourself eager to get started on that brief you need to write.
[ad_2]

Source link